User's Guide to Pretext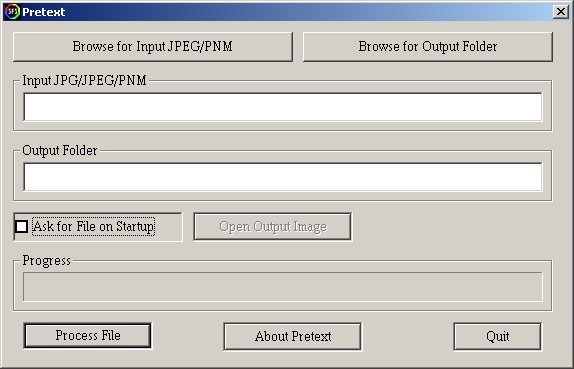 First, go to Start Menu then Programs then the Pretext folder, then click the Pretext icon.
Click on 'Browse for Input JPEG/PNM"

Navigate to the directory where your input file is and select it.
A sample file can be found in "C:\Program Files\Pretext\samples\sample.jpg" - (All you have to do is double-click 'samples' then 'sample.jpg' when first using Pretext)

The Output Folder (where Pretext's result goes) defaults to the same as the Input folder.

To change this, click the Browse for Output Folder button.

Click Process File.

The Progress bar will show how much of the file Pretext has processed.
When Pretext is done, click the 'Open Output Folder' button to view where your processed pictures are, so you can load them into a paint program, or copy them.

There it is!
---
Text and Pretext logo (c) 2010 San Fran Systems